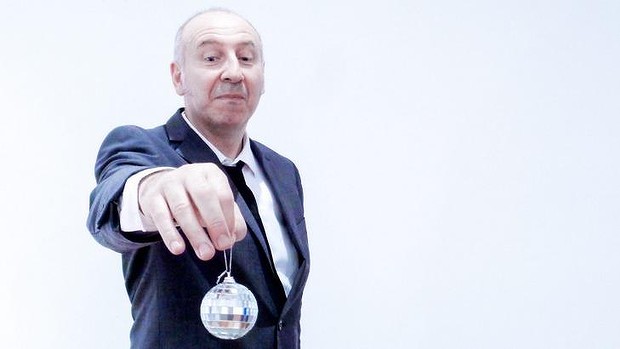 Damian Cowell 'was the guy in TISM'.
Or so he claims.
Anyone could, really. TISM wore masks and performed under pseudonyms. But the rest is more interesting:
20 years, 7 albums, 2 ARIAs, at least one lawsuit, top 10, TV Week, Big Day Out, programming Rage,being called 'Scum' by Nico, quoting James Joyce to bogans and James Hird to intellectuals, doing radio interviews with a motor mower, performing two songs simultaneously from both ends of a venue, talking to the rock press via megaphones and 50 metres of string, making the guy from Rolling Stone wear a wetsuit, becoming a recurring question in TV quiz shows – if you want the boring version, check out Wikipedia.
In 2011, as frontman for the DC3, he was commissioned by David Walsh to create a soundtrack for his Museum of Old and New Art (MONA). The soundtrack was titled Vs Art. It is only available in MONA. He released two albums as front-man of The DC3.
In 2015, he earned glittering reviews and staged a sold out national tour on the back of his solo album 'Damian Cowell's Disco Machine' which featured a colourful new backing band and album cameos from Shaun Micallef, Tim Rogers, Kate Miller-Heidke, John Safran, Lee Lin Chin, Liz Stringer, Sam Pang and Julia Zemiro, Kathy Lette, Tony Martin and The Bedroom Philosopher.
His Melbourne International Comedy Festival show that same year, 'Hara-Karaoke' was described as "searing political comedy" "alarming, amusing satire from an anarchist at heart."
Damian Cowell has a new project in the making. Or so he claims.
Damian's special garage AH Interview is here.
Photo by Henri Grawe