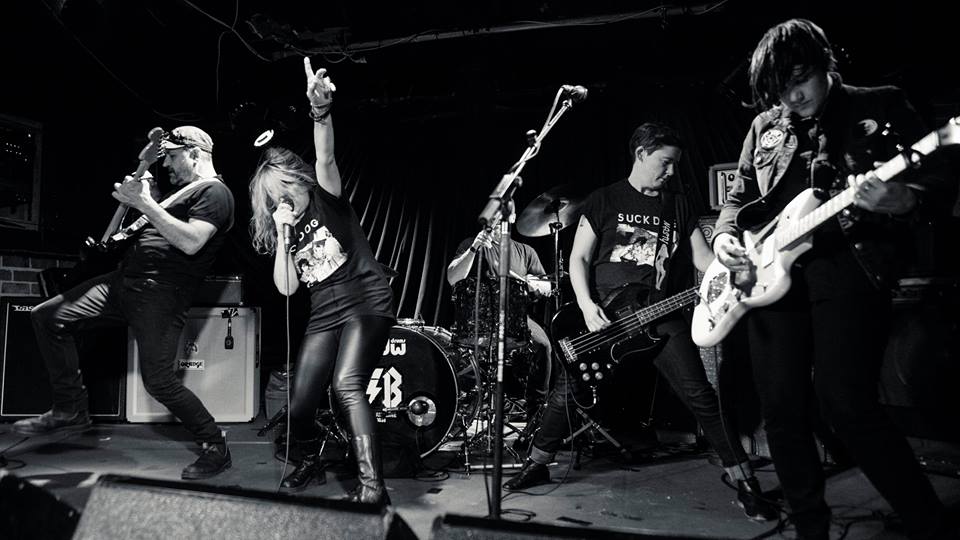 THE DACIOS are a high-octane, lysergic, nitrous sucking rock n' roll beast.
Like a reprobate Phoenix exploding from the ashes of legendary Tasmanian band Little Ugly Girls, THE DACIOS first erupted on local stages in 2005. Their first dangerously flammable line-up boasted Linda J (Little Ugly Girls) on larynx/guitar; Bean (Little Ugly Girls, Keith's Yard) on guitar/back-ups; and Robert 'Pops' Johnson on traps.
Permanently stimulated by a synapse twisting brew of rock n' roll sour mash, THE DACIOS are esteemed for their white-heat live performances . They've revved up rooms for Eddy Current Suppression Ring (album launch), Roland S Howard (album launch), The Drones, Harmony, The Stabs, Spinning Rooms, Warped, Budd, Legends of Motorsport, Deniz Tek's Visitors, Future of the Left, Ninety Nine and Witch Hats. They have been nominated for and played the EG Music Awards, and Linda J shared the best female vocalist award with Adalita at the Victorian Music Awards in 2009.
But there's more to THE DACIOS than just the brain pulverising roar of a supercharged V12 running full throttle through a nuclear junkyard. Linda J's lyrical concoctions constitute a highly virulent poetic serum which she expectorates in heaving torrents against the increasingly claustrophobic forces of urban banality. Her unflinching psychic insights wrench the cancerous lesions of modern life into the glare, and splay love's ordeals on a dissection table like so many toads. Their live experiences capture a whole room and are often described as the heaviest music you can dance too.
The current Dacios line up sees the return of original member Robert 'Pop' Johnston on Drums, the introduction of noise guitar maestro Bonnie Mercer and the reunion of Bass Player Mindy Mapp , with Bean and Linda J who formerly all played together in Little Ugly Girls.
"Height wise Linda J is five feet nothing but vocally she is a 400 Ft Jesus in jeans and a flannel swinging between the ferocious snarls of Adalita Srsen, Joel Silbersher and Kathleen Hanna and the sultry twang of Neko Case. A must get? Most definitely." – Unbelievably Bad Zine
"..a set of lungs to make Bon Scott and Doc Neeson blush" – MESS + NOISE